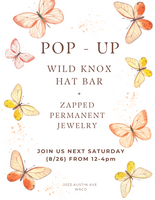 COME PARTY WITH US
We're so excited to have Wild Knox Hat Bar all the way from Fort Worth in the store with us! Have you been wanting a custom hat? Now is the time! Choose from pre-styled hats or make a one-of-a-kind hat just for you. They offer branding, feathers, cards, hat pins & more. Shoot us a DM to reserve your time slot, now. (Available times are from 12-4pm)
ALSO, Zapped is back with us. Bring the family and get that permanent jewelry you've been wanting. Each time they set up with us, it is always a huge success. You definitely do not want to miss out on this event!
See you next Saturday 8/26
Don't forget the accessory!
Whether you're needing a bag, fun jewelry, hat, or tanning mousse, we have it under the 'Accessories' tab!